Have you ever considered buying  a cheap tray of turkey mince? Let me share with you a delicious, child friendly meal.
Turkey Meatballs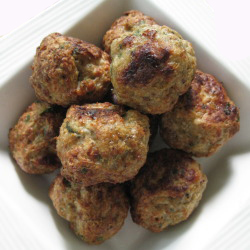 Ingredients
Tray of turkey mince
Leggos jar of Bolognese sauce
Finely chopped 4 slices of short cut bacon
Shredded parmesan cheese
Breadcrumbs
2 eggs
Vegetables to add (4 florets of broccoli or 1 zucchini)
Plain flour
Olive oil
Method
Fry up the bits of bacon till brown tinge
Mix mince, 2 tablespoons of leggos sauce, bacon bits, parmesan, veges chopped (optional)
Make mix into small balls (size of golf balls)
Coat each meatball in flour, egg then bread crumbs
Place in a heated pan of oil to cook. To avoid using excess oil, just cook/brown both sides, then place them on paper towel and plate to finish in the microwave for 2 minutes.
Cut one in half to check if it is cooked, if not, put them back in for another minute.
If they don't work out, please e mail me and I will help……
Take note
As your children get older, they will be more interested in eating vegetables when they discover that if they do, veges don't go in the meatballs any more….this worked with mine!
Why turkey mince?
When my son was 3, he found the beef mince balls too strong to taste. That's when I decided to use veal and turkey. Subtle meat flavour but delicious taste once you add the bits!